Preventive Care to Promote Eye Health & Vision
You can't really know what your eyes need without regular eye exams. Our eye exams provide critical support for your ocular health and vision by uncovering and monitoring the risks you face.
Eye diseases don't always come with visible signs until they've already done damage, so we work hard to catch them early. If we find any issues during your eye exam, we'll work with you to create an individualized plan to manage them appropriately. An eye exam is also a great way to update your prescription so you can replace your glasses or contact lenses properly—after all, who doesn't love getting sharp new frames?
Reach out to us today and make sure your eye care is in good hands.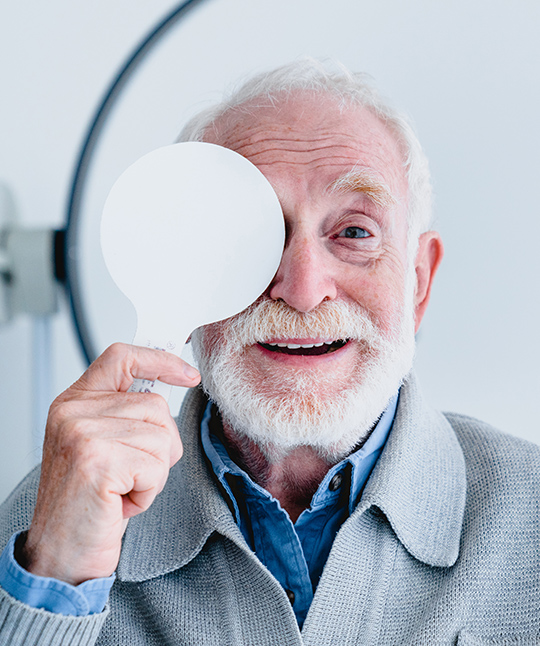 When Are Eye Exams Important?
There's never a wrong time to have an eye exam, but the American Optometric Association recommends spacing them apart as follows:
Have an eye exam once every year if you're between 18 and 64.
Have an eye exam every year after you turn 65.
Just remember that not everyone's eyes are exactly the same, and some need eye exams more often than others because of specific issues. Once we've come to know you and your eyes, we'll build you a custom exam schedule based on your needs.
What Happens During an Eye Exam?
Eye exams usually last between 30 to 60 minutes unless we need to run tests that could keep you longer. But don't worry; if we think that might happen, we'll tell you before the exam so you can adjust your schedule in advance.
Your exam may start with a simple conversation about your individual and family medical histories. We might also ask about any medications you've taken recently. Then you'll get a chance to ask us about any eye concerns you have before we update your prescription and test your eyes.
We usually check your:
We also look at the overall health of your eyes by checking individual areas for signs of damage that could indicate eye diseases. These areas include your:
If we uncover any eye health or vision risks during your exam, we'll let you know. Then we'll provide you with our recommendations for the next steps and help you make an informed choice about how to proceed.
Be Proactive About Your Eye Care
Seeing your optometrist for regular eye exams increases your chance of discovering eye problems before it's too late to control their effects. Please contact our practice now to book your next appointment with one of our team members.
Our Location in Los Gatos
Where Is Your Practice?
Our practice is on North Santa Cruz Avenue, at the corner of Bachman Avenue. If you're early for your appointment, you'll find eateries and plenty of other shops nearby to explore.

Our Address
233 N Santa Cruz Avenue

Los Gatos

,

CA

95030
Our Hours
Monday

:

9:00 AM

–

5:30 PM

Tuesday

:

9:00 AM

–

5:30 PM

Wednesday

:

9:00 AM

–

5:30 PM

Thursday

:

9:00 AM

–

5:30 PM

Friday

:

Closed

Saturday

:

9:00 AM

–

3:00 PM

Sunday

:

Closed